Life of Potatoes and Sweet Potatoes
The potato family is often found in every meal of your life three sixty-five. Potatoes and sweet potatoes are healthy from the skin to the mash. They have high nutritional values – a high portion of various vitamins and mineral, remarkably potassium, which is a mineral essential and largely needed to maintain the health of every body cell. It is all beneficial in easing the blood pressure, muscle contraction and nerve coordination, thus many producers like to use potato as an ingredient.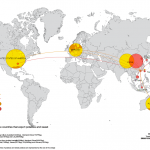 Potatoes and sweet potatoes are produced in farms through both organic and inorganic farming. In Hong Kong, there are numerous organic farms in Yuen Long which supply organic fruits and vegetables. The farming of vegetables is tough; there are more than fifty varieties of plants in a single field. The large variety of plantation in a farm is important, as the crop rotation is essential. Crop rotation means planting different vegetables and fruits in different field area of the farm, so that the different crops will absorb different nutrients from the soil on that same spot to make the plants grow better. There is an intensive network of water supply that waters the plants regularly throughout the days and weeks. The water supply is uncontaminated from the supply of fresh running water from the well in the village.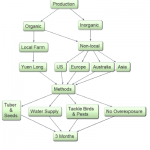 To be a successful farmer with well-done crops are to be experienced and have unique knowledge for each plant, despite long working hours from midnight till late evening and hateful enemies of the farmers, the birds and detrimental pests. The farmers can distinguish the origin and type of the plantation only from looking at the leaves that grow above the ground. Potatoes cannot be exposed to the sun for more than a certain period of time, otherwise will turn green on the surface, farmers have to make sure potatoes to be covered by the soil while they constantly grow big and out of the soil in order for a healthy growth. Sweet Potatoes have different colors right from the root of the plant indicating different of the kinds; they are cut and put into storage into different baskets under the roof. The potatoes and sweet potatoes are to be harvested in every 3 months. They are often good for storage, thus are always sorted a day or so earlier and exported to markets in the weekends along with other harvested crops.
The harvested potatoes and sweet potatoes are then processed and transported for distribution. In the food production and consumption cycle, the roles of import and distribution are significant. By paying a visit to the Western Wholesale Food Market, which is one of the significant places to discover the method of transportations and the process of food distribution. Apart from the famous Western Wholesale Food Market, a wholesale market for organic vegetables and fruits is also set up in the Central Pier every Sunday.
There are 3 transportation methods for the import and distribution of foods – "Air, Shipping and Land". Local potatoes and sweet potatoes are packed in boxes, and being cut out from sunlight. These boxes will be gathered with other vegetables and fruits and are then delivered through delivery trucks from the rural areas to the city. Locally farmed plantations are usually delivered to wholesale markets or traditional markets in the urban areas. Also, most of the potatoes and sweet potatoes from China are transported by surface-transports. Alternatively, potatoes and sweet potatoes that are planted overseas are either shipped or delivered to Hong Kong by plane.
However, most supermarkets and chain stores do not follow this model. They send their own trucks to the shipping points and the airport to pick up the potatoes they ordered.
Through the visit of Western Wholesale Food Market, the wholesale model was better understood. There are 3 kinds of wholesalers –the "Traditional Wholesalers", "Primary Wholesalers" and "Secondary Wholesalers". Traditional wholesalers would directly order goods from exporters and have their own cargo or container. As small size wholesalers (secondary wholesalers) cannot afford expensive transportation fee, they will order goods from larger wholesalers (primary wholesalers). Retailers will approach different wholesalers to bargain on the goods. After trading, retailers will transport the goods on their own or by logistics.
There is a large consumption of potatoes and sweet potatoes from around the world. Both sweet potatoes and potatoes require approximately three months to grow. When potatoes and sweet potatoes are ripe, they will be collected in baskets and proceeded to a selection process. Quality instead of size of the legumes will play a key role during the pick. After potato and sweet potato are received from transportation from Wholesale market, depending on which type of potato the restaurant wanted to make. The majority of potatoes are not consumed fresh from farm. They are processed into dish and food products and ingredients. Processing also includes feeding of poultries and farm animals, producing starch within the industry and farming purposes for growing more potato crops of next season as seed tubers.
Potato currently ranks as the fifth most important crop from around the globe and is a good ingredient to cook food, in dessert, side dish, fries, snacks and more. It is all around us. No matter the Asians, Europeans or the Americans, they all have craves and recipes in creating potato dish in different styles in accordance to the respective culture. Luckily, we are living in this city with the good name of "Food Paradise", culture is internationally inclusive. We are able to gather the tastes of variation of potatoes and sweet potatoes.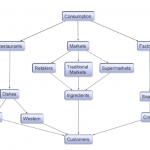 From the large amount of potatoes and sweet potatoes consumed, wastes are thus produced in large proportion. Food wastes currently take up a large proportion for the contribution of harming the environmental, in which Potato is globally known as the largest avoidable food to be wasted. In a year, 359,000 tonnes of potato goes uneaten every year, including 177,400 tonnes of potatoes thrown away whole and untouched, which is almost half of the total number of potatoes farmed.
Since there are a lot of dish that can be made from potatoes, leftovers of potatoes can be made into mashed potatoes, other dishes, seed tubers for next growing season and more. Unfortunately in Hong Kong, most potatoes are thrown away. From the production of potatoes (farming) to a nicely production of potatoes, there are no consideration for various means to recycle the unwanted potatoes. They are just thrown to the bin and brought to landfill with other wastes.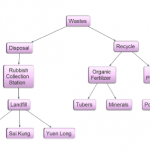 Choi Mikko Sung Hei
Li Sonia Margaret
Lai Lok Chi