Shrimp is Hong Kong people's all-time-favorite. In the past, they are luxurious. They are very difficult to catch, so there is no guarantee of the quality and the amount of supply every day. With the advancement in technology, people nowadays can enjoy shrimps all year around, farmed and earlier-processed shrimps are commonly available for purchase. Presently, shrimps come in three different forms: living, chilled and frozen shrimps. Living shrimps are either wild-caught or farmed. They can also be further processed and become chilled or frozen shrimps. The production, wholesale, waste treatment and transportation process is illustrated as follows.
The major sources of imports are China (68%) and Vietnam (13%) while Malaysia and Myanmar each accounts for 4% of the imported shrimps. Taiwan, Indonesia, Japan and Thailand also provide small amounts of shrimps to Hong Kong. Shrimps from China mainly come from 4 provinces which are Zhejiang, Shandong, Guangdong and Guangxi. On the other hand, Hong Kong also export and re-export shrimps while 86% shrimps are sent to Vietnam, 7% to Macau and the rest to Taiwan, China and the US.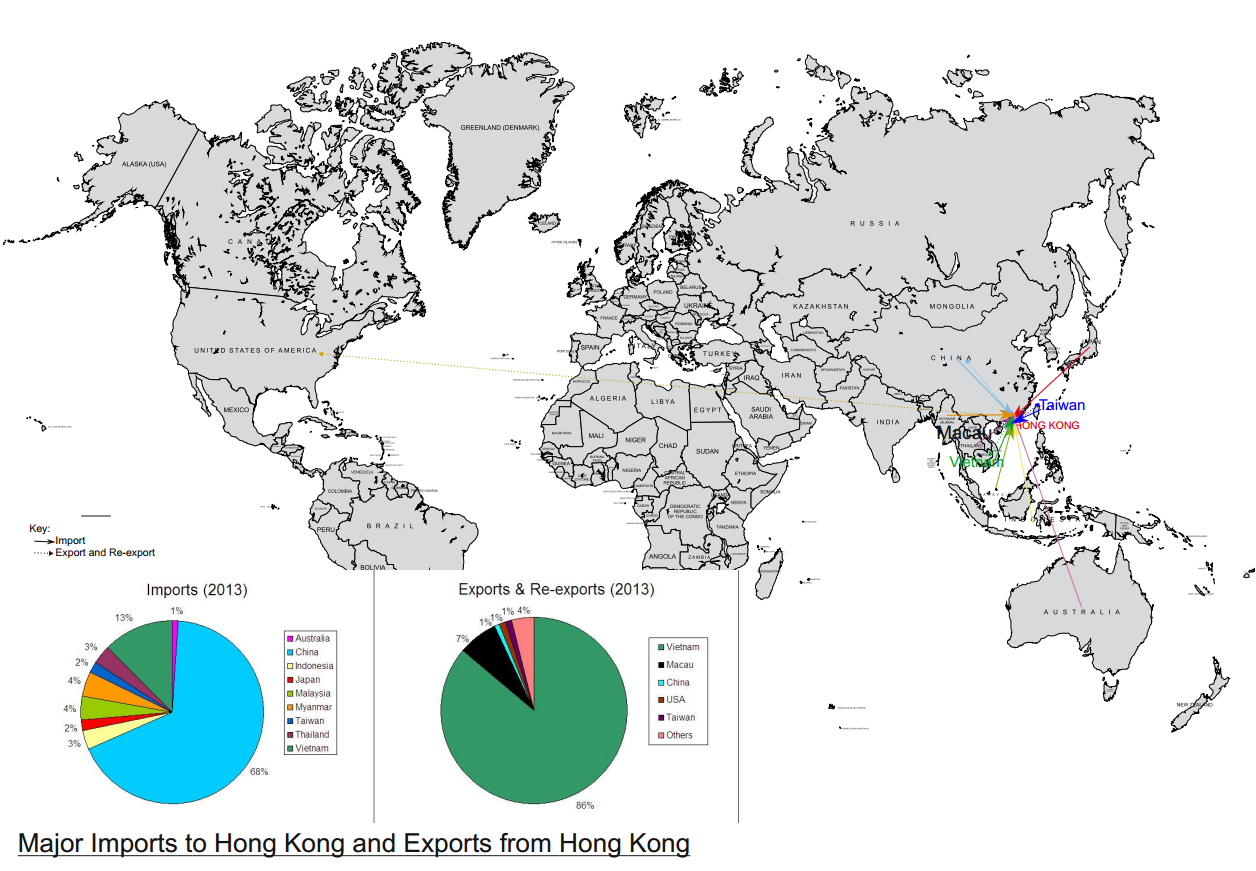 Production
Living Shrimps
Wild-caught shrimps are caught from the sea or freshwater. Fishermen will toss a cast net with bait into the water before sunset and they will collect the contents when the night falls, observing the glowing eyes of the shrimps in the dark. After that, rubbish, other fishes, dead and damaged shrimps will be removed. The shrimps will then be cleaned with water and placed in Styrofoam boxes filled with sea or freshwater. They can then be sold living or further processed to be sold as chilled or frozen. Farmed shrimp are shrimps that are grown by farmers. At the beginning, mature shrimps will be placed in temperature-controlled hatcheries, where they spawn. Eggs will go through several stages: eggs hatch into nauplii, grow into zoeae and finally myses. Postlarval shrimp will then be moved to grow-out ponds. They will be harvested when they grow to marketable size. The farmers will drain the ponds and only shrimps of appropriate size will be collected by a net installed at the drainage gate of the pond. Lastly, farmed shrimps will be put into boxes like wild-caught shrimps are.
Frozen & Chilled Shrimps
Chilled shrimps are dead but are kept temporarily fresh with ice. They are usually found in the refrigerator (below 4°C) of supermarkets, covered with plastic wraps. They may also be sold in wet markets on successive layers of ice. When living shrimps are collected, they will be drained. They are then packed with successive layers of ice in boxes. It should be noted that the design of the box should allow melted ice to drain from the bottom of it to avoid them from going bad. The entire process is done instantly on board to guarantee freshness of the shrimps.
Frozen shrimps are usually found well-packaged in the freezer (below -18°C) of supermarkets. They can be kept up to six months, considering the more complicated production process involved: 1) Washing 2) Safety Inspection of diseases 3) Culling: Removal of sub-standard shrimps (in terms of size and appearance) 4) Peeling: Removal of heads and viscera. 5) Waste Separator: Filtration of unused fragments left after peeling. 6) Washing 7) Sizing and Grading: Indication of quality, for deciding where they should go. Grade A for high-end retailing; Grade B for normal retailing; Grade C for processed shrimp products only. 8) Freezing at a freezer of below -30°C 9) Glazing Tank: Applying glaze on the surface of frozen shrimps for protection during storage. 10) Final Sizing and Grading 11) Weighing 12) Packing 13) Bar-coding/ labeling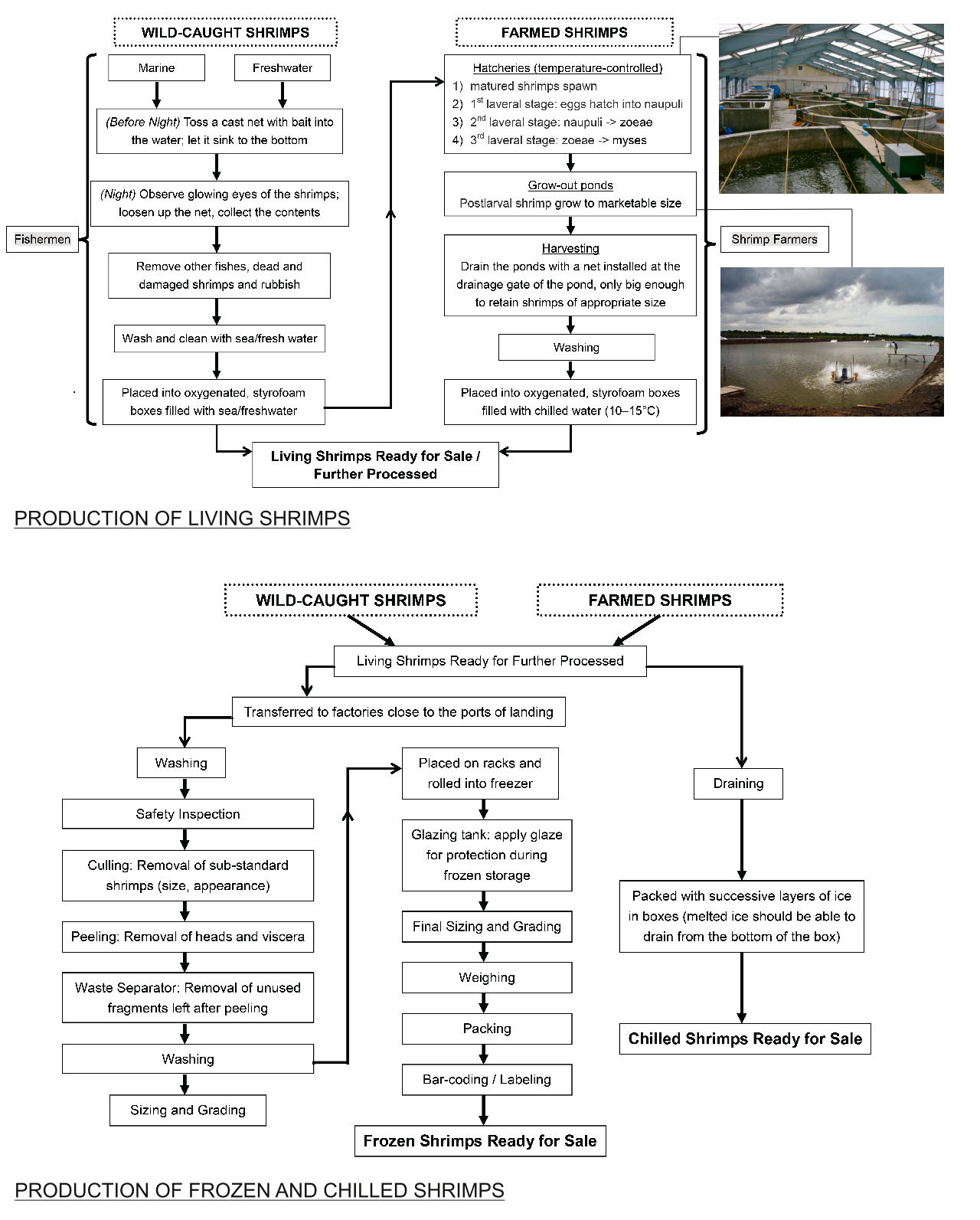 Distribution
Living Shrimps
There is also less restriction on the wholesale of living shrimps. They need not necessarily pass through wholesalers or any of the wholesale markets, as long as the shrimps weigh less than 60kg. Fishermen can simply sell their freshly-caught shrimps to ordinary citizens by the sea, for example.
Frozen Shrimps
Transactions of frozen shrimps are much more predictable than living shrimps. Distributor and retailers cooperate on a pre-agreement basis, for both the price and the quantity to be supplied. As most of the frozen shrimps are imported, distributors in Hong Kong will make orders with the dealers from overseas. Once the shrimps arrive, distributors can send them to retailers directly. It is not required to pass through wholesale markets.
Chilled Shrimps
Primary wholesalers order shrimps in bulk and sell them to various secondary wholesalers. As stated in Marine Fish (Marketing) Ordinance Cap 291, all chilled shrimps must be landed and sold wholesale at one of the seven wholesale fish markets (Aberdeen, Shau Kei Wan, Kwun Tong, Cheung Sha Wan, Tuen Mun, Tai Po, Sai Kung) operated by the Fish Marketing Organization. After landing, they may then be sold wholesale at the food wholesale markets managed by the government, according to where the secondary wholesalers locate. Transactions between secondary wholesalers and retailers are made either first-come first-served or ordering. For the former, retailers will personally arrive at the wholesale markets to look for the shrimps they want. They will put a small slip of paper on top of the box of shrimps as indication. Their counterparts will then know the box is taken. For the latter, retailers will get in touch with the wholesaler (mostly by phone, or maybe online) to request the type and number of shrimps they want and ask for the price. Retailers can either come to the wholesale market to collect the reserved shrimps or they can be sent to retailers.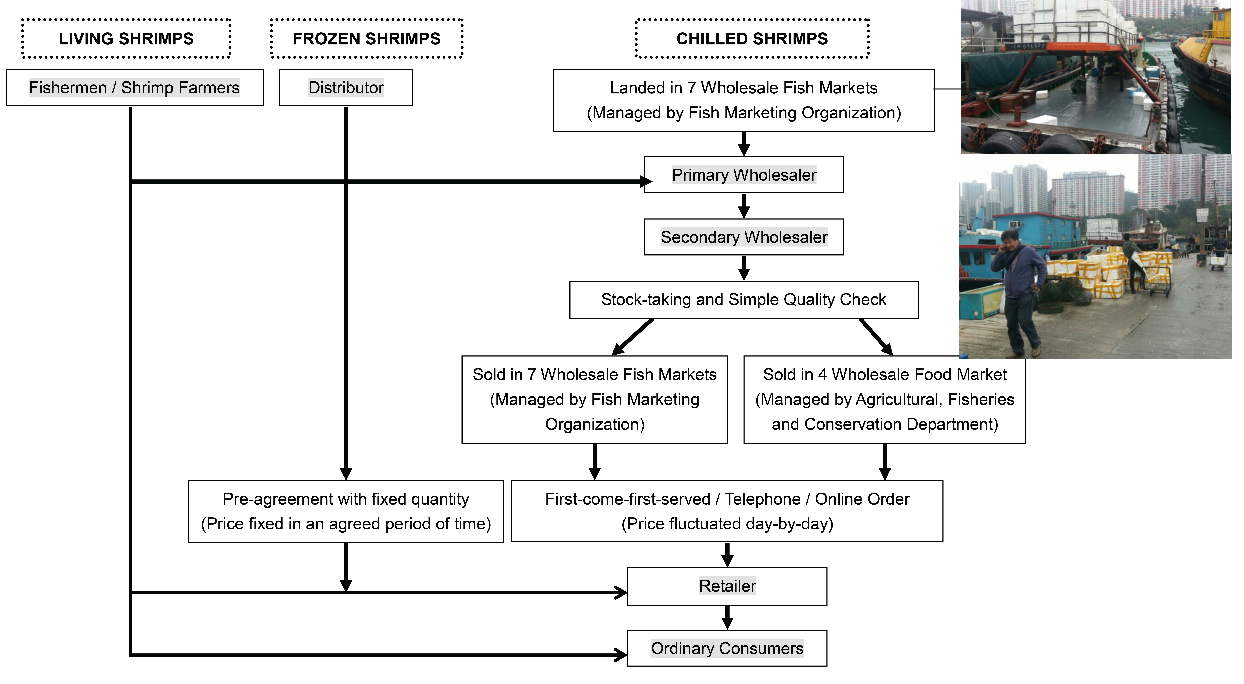 Waste
Wastes produced during production are mainly by frozen shrimps processing factories. Liquid waste (such as water from washing and cleaning) will pass through the sewage systems and reach the government's sewage treatment facilities. They will be treated according to their waste component such as acidity level, temperature, odour etc. This may produce reusable clean water or processed liquid waste that is ready for disposal. Meanwhile, biosoil is the by-product of the treatment process. It is a solid waste that can be further decomposed into bioactive compounds like fertilizers and animal feed.
In the distribution and consumption stage, wastes induced from wholesale, retail and private consumption are not required to be specially treated before disposal as they are not particularly harmful to the environment. They follow the usual route of waste disposal. Solid wastes will be transferred to public refuse collection points by garbage truck and be transported to landfill sites for final disposal. They are mostly inedible parts of shrimps such as heads and shells. Since they do not come in an amount as great as they are in factories so wholesalers, retailers and consumers seldom bother to further process them. Nonetheless, unsold shrimps are very rare to be disposed of, as wholesalers or retailers tend to cut price at the last few operating hours in an attempt to get rid of all the stock in hand.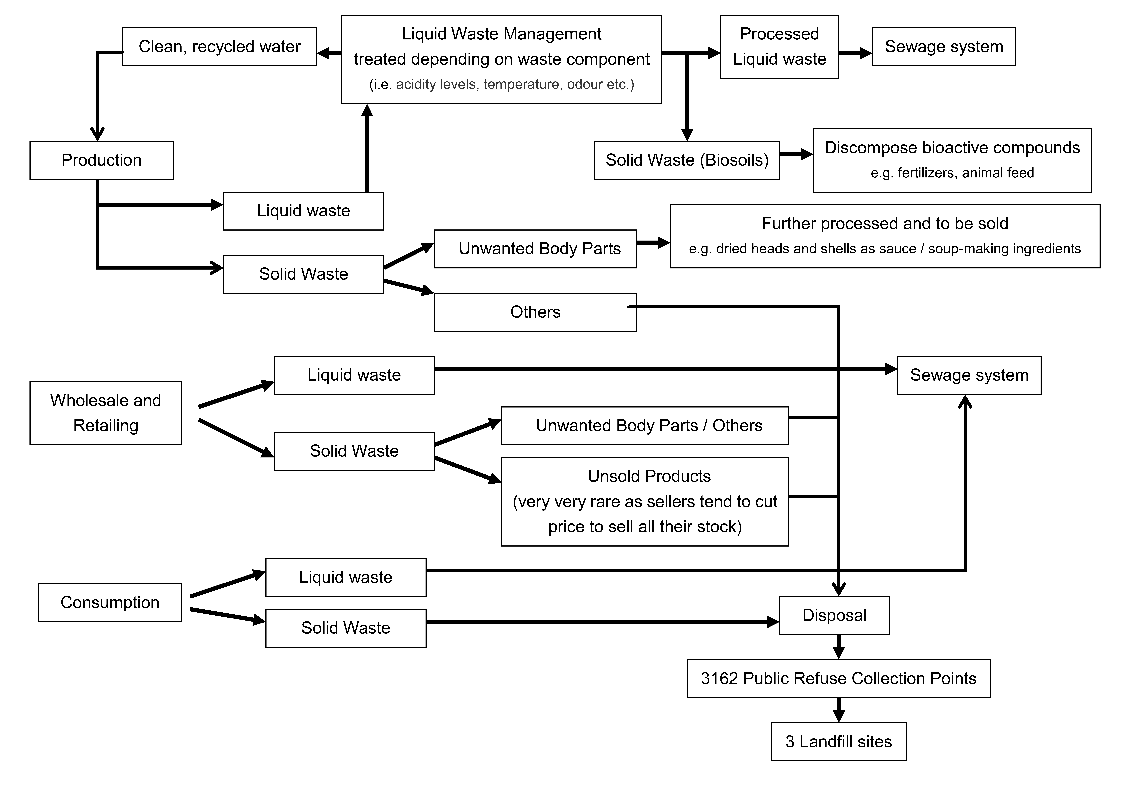 Lau Chung Kei
Liu Mei Ting
Siu Sin Tung